2015 Year in Review
<![CDATA[ (function(t,e,o,s){var c,n,i;t.SMCX=t.SMCX||[],e.getElementById(s)||(c=e.getElementsByTagName(o),n=c[c.length-1],i=e.createElement(o),i.type="text/javascript",i.async=!0,i.id=s,i.src=["https:"===location.protocol?"https://":"http://","widget.surveymonkey.com/collect/website/js/UlyMMvUMxjAgC_2Fd0myLfJo5UqRtquTRtlB5oc4WsTPUCbFnJ22m1dJswLZc3oWKR.js"].join(""),n.parentNode.insertBefore(i,n))})(window,document,"script","smcx-sdk"); // ]]>Welcome to the City of Albany Office of Special Events year in review! It's been a great 2015 and we are excited to bring you even more free fun in 2016! We'll take a quick look back at the year and then we need to hear from you! Tell us about your favorites from 2015 in our survey here: https://www.surveymonkey.com/r/XDXSJ3Z
The year kicked off with the 67th annual Tulip Festival, the juggernaut of all free events in Albany! This year the event was highlighted by a British invasion from The Kooks! They rocked the main stage to a huge Saturday crowd. We also crowned the 2015 Albany Tulip Queen Alexandra Cronin and the 2015 Mother of the Year award winner Carol Dutcher! Congratulations again to both of them!
Photo Credit: Mike Yood
Summer in Albany is always beautiful, especially on Thursday nights at Alive at Five. This summer was no exception! We had some excellent shows, too many to highlight here! You saw two rock legends this summer in Blue Öyster Cult and Edgar Winter, great singers like Chrisette Michelle, and many excellent up-and-coming bands like J. Roddy Walston and the Business, Atlas Genius and RaeLynn!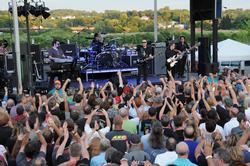 Photo Credit: Ed Conway
Dad Fest was a new event this year, combining fun activities and surf rock music on Father's Day. Dads need to be celebrated too and this was their day to do it! Whether it was a mini golf course or the moustache contest, fathers and their families had a rocking good time.
Photo Credit: Mike Yood
September in the City returned to Tricentennial Park this fall, showcasing local art and music along with this year's beautiful September weather. There were lots of great vendors and musical acts new to the event, and you can expect more to come in '16.
Fall also means the Albany Riverfront Jazz Festival! And this year's Jazz Fest was BIG! Headlined by a performance from Rock and Roll Hall of Famer Booker T. Jones, the Corning Preserve Boat Launch was filled with some of the best music of the year.
Photo Credit: Mike Yood
Finally, we finished up the year with the Albany Last Run 5K! With yet another sellout, over 1700 runners registered to race this year. We had a lot of great new costumes and another spectacular fireworks show to kick off the race.
Photo Credit: Mike Yood
So that was a quick recap of our year, but now it's your turn! Click the link above to tell us your favorite highlights from 2015 in the survey! We'll post the results this Thursday on New Year's Eve!