Early Albany event offers a trip back to 1614
If it weren't for all the smiling attendees snapping cell phone photos, you almost could have sworn you'd stepped back in time at the Corning Preserve on September 28. The Early Albany Hudson River Festival took over Albany's Riverfront on a sunny Sunday afternoon, offering a glimpse at what life looked like for the Capital Region's earliest inhabitants.
The Festival was a celebration of 400 years of commerce, culture and technology along the banks of the Hudson River, recognizing the establishment Fort Nassau in 1614 on the grounds of modern-day Albany. Nassau was the first Dutch settlement in North America, located just a short distance away from the scene of the Early Albany festivities (though the exact location of the Fort is still a matter of debate among historians.)
Off the shore, the replica ship Half Moon was a spectacular sight. The immaculately detailed ship is an exact recreation of the original vessel of Henry Hudson, who first traveled through the river that now bears his name in 1609.
Re-enactors set up an encampment that closely recreated the day-to-day life of the early Dutch settlers, complete with tents, period-accurate clothing, drills and campfires! The day's activities kicked off, of course, with a cannon salute!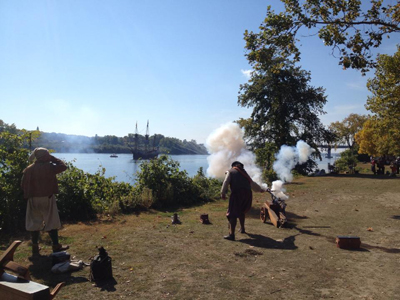 Early crafts, skills and technologies were demonstrated, from coopery (the incredibly detailed craft of barrel-making)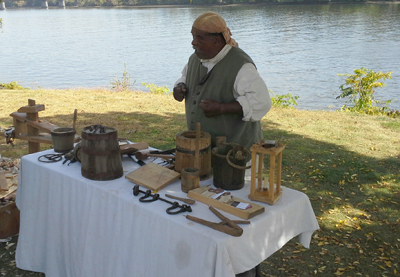 to broom-making…
…to flint-knapping (the practice of striking useful tools from rocks!)
…to kids' games in both the European and Native tradition!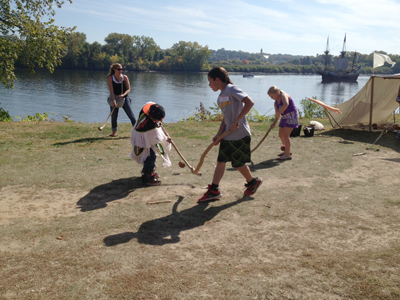 Early Albany welcomed members of the Stockbridge Munsee Band of Mohicans back to the native land. Now based in Wisconsin, the ancestors of this tribe were the first people to call the Albany area home. Members of the Munsee tribe demonstrated customary dress, ceremonies, music and dance.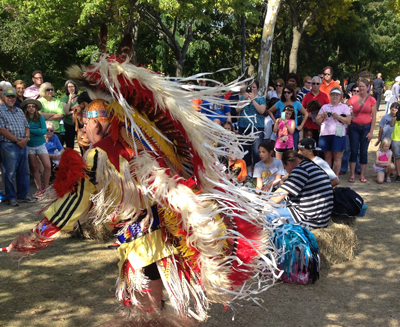 We've since stepped back into 2014, but Early Albany was an unforgettable opportunity to witness the living, breathing history of region. Take some time to learn more about the deep roots our City holds through resources like the Half Moon, the New York State Museum, the Historic Albany Foundation, the Albany Institute of History and Art or the Albany Visitors Center; you'll be amazed at what you learn!